WHAT'S THE DIFFERENCE BETWEEN SO AND VERY?
Multiple-Choice Exercise: So, Very, Too
Multiple-Choice Exercise: SO vs SUCH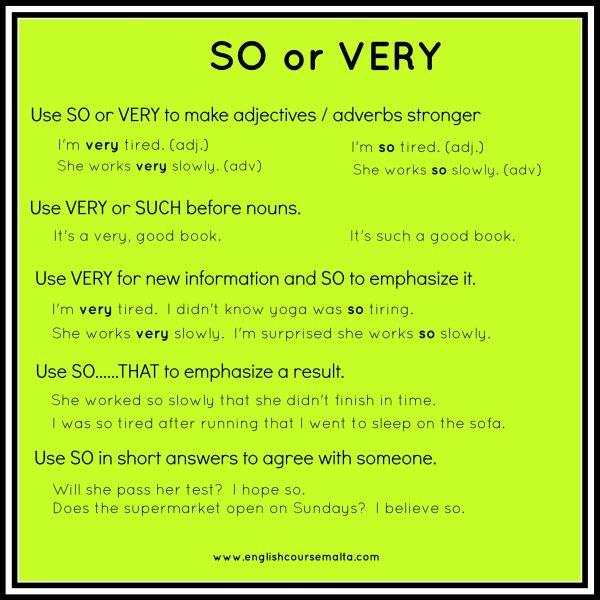 The difference between SO and VERY can be a tricky question .  SO and VERY are both adverbs which are used to emphasize an adjective or an adverb.   In many situations, you can use either SO or VERY with no difference in meaning.
I'm so hungry.                                                   I'm very hungry.
She played so well.                                         She played very well.
USE SO AND VERY TO PROVIDE NEW INFORMATION
It's so expensive.                                             It's very expensive.
I'm so happy.                                                      I'm very happy.
While both SO & VERY can be used to provide new information, we typically use VERY to introduce information and then SO to emphasize the information which is already known.
Learning Spanish is very easy.  I didn't think it would be so easy.
We had a very good holiday.  We saw so much.
NOTE:  So cannot be followed by a noun, we must use SUCH instead.
He's very talkative.      He's a very, talkative guy.
He's so talkative.         

He's so a talkative guy. 

 He's SUCH a talkative guy.
USE SO NOT VERY IN THAT CLAUSES TO EMPHASIZE THE RESULT – SO…..THAT
It was so windy that I couldn't use my umbrella.
The English lesson was so interesting that I was surprised when it was finished.
The food was so good that I ate too much.
USE SO IN SHORT ANSWERS TO AGREE (AND AVOID REPETITION)
Will he come to the party?  I hope so.   NOT 

I hope very.

Is the supermarket open on Sundays?  I believe so.  NOT

I believe very.



Did we lose the match?  I'm afraid so.  NOT

I'm afraid very.
Multiple-Choice Exercise: So, Very, Too
Multiple-Choice Exercise: SO vs SUCH 
PRACTICE EXERCISE