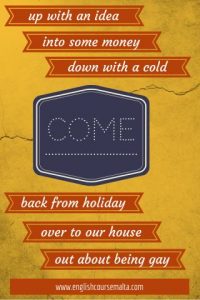 come up with – to have an idea. He came up with a solution to the problem immediately.
come around – to return to consciousness. He took a couple of minutes to come around after he fainted and knocked his head.
come down with – to get sick. I think I'm coming down with a cold.
come out – to reveal news. It was no surprise to anyone when he came out that he was gay.
come into – to inherit. He came into a small fortune when his grandfather passed away.
come over – to visit. Why don't you come over to our house for dinner this evening?
come up – to occur unexpectedly. I'm afraid, I can't make it to our appointment. Something's come up.
come back – to return. You are welcome to come back and visit us anytime.
come across – to find unexpectedly. I came across a fantastic website about Malta yesterday.
Click here for interactive EXERCISES to practise come as a phrasal verb.
More Multi-Word Verbs: TAKE, GO, MEET, GET, PHRASAL VERBS WITH BACK.